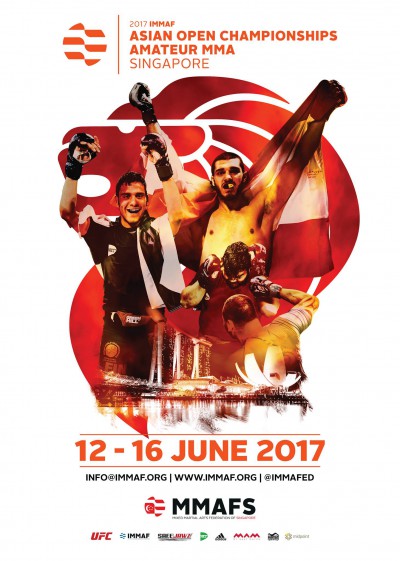 Malaysia will look to make huge impact at the upcoming Asian Open Championships 2017 organised by the world amateur MMA sanctioning body, International Mixed Martial Arts Federation (IMMAF) in Singapore from June 12 to June 16 2017.
The 2017 IMMAF Asian Open Championships of Amateur MMA will take place from June 12-16 at Marina Bay Sands in Singapore. This will be IMMAF's first Open Championships in Asia supported by the Ultimate Fighting Championship (UFC)'s on-going commitment in developing MMA in the region. Amateur athletes from all over Asia and across the world are invited to participate and show their skills in front of fans. This event is free and open to the public and will showcase local MMA talents as they strive to impress their peers.
"We are excited to partner again with UFC for our first championships in Asia and grateful for their ongoing support," said IMMAF President Kerrith Brown. "Asia is a spiritual home to many martial arts traditions, and renowned as a continent for its talent. We look forward to welcoming Asian national teams in full force, including IMMAF debutants from Thailand, China and Singapore itself. I urge competitors to contact their national federations to earn a spot on the world's premier Amateur MMA platform," he added.
IMMAF events have boasted up to 200 participants from up to 30 countries and 5 continents worldwide. The open events invite participation from affiliated national teams from all over the world, but bring the opportunity to compete to different continental regions – this time to the doorstep of 13 member nations in Asia. Weight categories run from strawweight (female) to super heavyweight (male), and participants compete under IMMAF Amateur MMA rules. This will mark the continued participation in an IMMAF event by the Malaysian national team after the IMMAF World Championships 2014 in Las Vegas, Nevada, USA.
Malaysia will be sending 7 athletes to compete for international honors and thus will be the 2nd biggest team on record after Sweden at the Asian open event.
The Malaysian team is represented by the following athletes in their respective weight classes:-
Mens Weight Classes
Flyweight:
Nik Muhd Alfam
Bantamweight:
 Naimul Amal Othman
Featherweight:
Dhiaaul Amal Othman
Weltwerweight:
Jace Law Weng Khiong & Theebaan Govindasamy
Light Heavyweight:
Chong Jing Yi
​Female Weight Classes​
Strawweight:
Amirah Makhtar